>> Thursday, February 19, 2009
After naps today, Lucas came up to me with his coat in one hand and snow boots in the other. "I need to get out," he said. I couldn't agree more! It has been a long winter. So even though it was about 25degrees outside, we bundled up and went outside to play. The air was cold, but watching him run in the yard and play warmed my soul. I forgot how much 20-30min of outdoor play really breaks up the afternoon and burns excess toddler energy. Hurry up Spring!! Lukey wants to play (and Mommy too)!!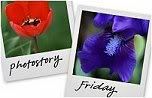 Hosted by Cecily and MamaGeek
Subscribe to Me!! Click
here
for your regular dose of
BabyLove Slings!